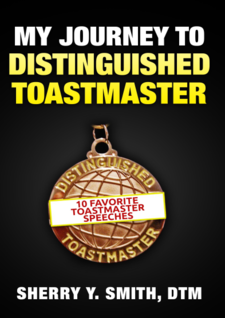 Book Details
Release Date: Thursday, 01 February 2018
Number of Pages: 55
Publisher: Southern Paradise Publishing
My Journey to Distinguished TM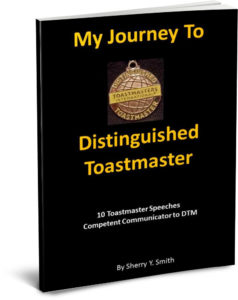 In My Journey to Distinguished Toastmaster, author Sherry Y. Smith shares eight of her favorite speeches given during her process of achieving her Distinguished Toastmasters designation. Sherry begins with her Ice Breaker speech, inviting you into her world as she shares a little of her southern upbringing. She continues sharing even more of her life experiences in her speech titled 'I Am the Woman Your Mother Warned You About'. Her selection titled 'Achieve Your Goals with Vision Boards' offers ideas on bringing your wants and desires to life with the use of vision boards. Readers can use her stories as an inspiration for their own speech writing.
Toastmasters International is a speaking organization with over 300,000 members worldwide. Toastmasters International empowers its members to improve their communication and leadership skills within a supportive environment.
Table of Contents
Speech 1:    Just a Country Girl
Speech 2:    Choosing Your Speech Topic
Speech 3:    I Am The Woman Your Mother Warned You About
Speech 4:    Release Your Inner Child
Speech 5:    Nothing Personal, But I Hope You See Less of Me This Year
Speech 6:    Back Down Memory Lane
Speech 7:    My Favorite Soap
Speech 8:    Achieve Your Goals with Vision Boards
Speech 9:    T'was The Night Before Xmas
Speech 10:   The Child in You…Let Her Go!
Save
Save