About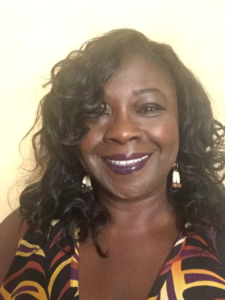 Sherry Y. Smith is a speaker, authorpreneur, trainer, Chief Enthusiasm Officer, and Mom. She's an avid Harley motorcycle rider, certified scuba diver, and the founder of the Sherry Y. Smith Foundation. Sherry's first foray into the book publishing industry was years ago when she wrote her gift guide book, Bedroom Pleasures: 40 Ways Men Succeed in Bed.
Sherry is the author of The Porch Party, a stage play that was later developed into a movie short. The play ran at the Raven Playhouse in North Hollywood. She holds a Masters in Executive Business, a Bachelor's in Behavioral Science, and she's a Distinguished Toastmaster, one of the highest honors bestowed to a toastmaster speaker.
Her forthcoming books include:
~ B.E.S.T.O.W.  Your Blessings (using the Laws of Reciprocity)
~ My Mystical, Magical, Shrinking Hair (book #1 in a children's book series)
~ My Journey to Distinguished Toastmaster (10 Favorite Toastmaster Speeches)
~ From Shy to Social Butterfly (Strategies to overcome shyness)

==========================================
Sherry Spreads Her Wings on Stage
On October 6, 2017, Sherry spreads her wings as she makes her solo debut in "The Calypso Girl Tour", a self written, original one woman show of stories that transcend her growing up in Calypso, NC to her current home in Los Angeles, California (and all places in between). The playwright explores the relationship with her father, and how it shaped the 4 major loves in her life: Men, Money, Music, and Motorcycles.
Her stories weave tales of small town living with snapshots of unconditional love, racism, the magic of fireflies at night to iconic travels and life in Los Angeles, the City of Angeles.
Her one-woman show runs at the Hudson Theatre, 6539 Santa Monica Blvd., Los Angeles, CA
Opening night is October 6, 2017 at 8pm. Additional dates are Oct 7, 8, 13, 14, 15. The Sunday matinee performances are at 3pm.
Opening night tickets are $30. All other shows are $25.  Tickets can be purchased at plays411.com or via telephone at (323) 960-7788.

Sherry can be contacted at sherry@sherryYsmith.com
Save
Save
Save
Save